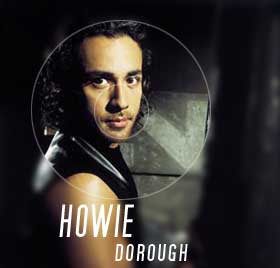 Howie D was born Howard Dwaine Dorough on August 22, 1973 in Orlando, FL. His mother is from Puerto Rico and his father is of Irish descent. He has four brothers and sisters John, Pollyanna, Angie, and Caroline, who lost her life to the disease Lupus.

A true Florida native, Howie loves swimming and water skiing, as well as weight lifting and racquetball.

Howies been entertaining since he could walk; at the age of 3 he woke his grandparents by jumping onto their bed and belting out a rendition of Baby Face as loud as possible. He sung in both his school and church choirs while growing up and was a member of several local theater groups. In addition to his tough touring schedule as a Backstreet Boy, Howie takes time to perform hip-hop routines at local clubs in Orlando, including the one he owns; Tabu.

Quick Facts:
Full Name: Howard Dwaine Dorough
Nicknames: Howie, Howie D, Sweet D, Latin Lover
Birthday: 8/22/73
Eyes: Brown
Hair: Brown
Height: 56
Shoe Size: Mens 8
Car: Corvette
Musical Instrument: Guitar
Favorite Music: Soul and R&B
Pets: Christopher the cat and Oscar the dog.
Cologne: Cool Water and Escape for Men
Favorite TV Show: Roswell
Residence: Orlando, FL
Astrological Sign: Leo
Favorite Foods: Asian and Spanish
Favorite Color: Purple
Favorite Book: Charlie and the Chocolate Factory
Favorite Movie: The Outsider
Favorite Musicians: Bobby Brown and John Secada
Favorite Actor: Tom Hanks
Hobbies: Weight lifting, water skiing, dancing, racquetball, and movies
Fun Facts: Howie appeared in the movies Parenthood and Cop and a Half. He appeared in several Disney World television commercials.
Foreign Language: Spanish

Ideal Girl: Career Minded
Intelligent
Nice personality
Good sense of humor
Wants a huge Catholic wedding and 3 kids!
Dream Date: A candlelight dinner, followed by movie or dancing, ending with a long walk on the beach.